Home staging is essential in making your home look its very best and preparing for success on the market. With the right staging techniques, your property will be poised and ready to make its grand entrance on the real estate scene. Not only do staged homes sell quicker than unstaged listings, but they often compel buyers to make higher offers.

If you are hoping to up the ante of your home's appeal, you're in luck! There are several ways that a home seller can stage a home in preparation for professional photos and home showings. Try out one of these seven DIY home staging tips below to complete the process yourself.


1. Pack away belongings
DIY home staging tips often focus on simple tasks with significant impacts. Such is the case with decluttering the home. Clutter works against a room in two ways: it detracts from desirable home features, and it gives the illusion of less space. Both make a property less appealing to buyers. When planning for a sale, decluttering can also provide an opportunity to get a head start on packing.

To declutter, first categorize items by what you want to keep, what to donate, and what to throw away. Donating and throwing away unneeded items helps reduce how much you pack and move once you sell. Then, reorganize the remaining belongings or pack them away. If certain rooms still look cluttered, consider renting out a storage unit for the time being. This keeps your belongings organized while giving rooms a more spacious look.
2. Create a clean slate
The best foundation for staging a home is, of course, a clean slate. Take the time to completely clean your home's interior. Sweep and mop the floors, vacuum the carpets, and clean the inside and outside of the windows. Take a floor-to-ceiling approach to cleaning. Leave no corner or countertop undusted. Scrub the scuffs out of the floorboards, wipe down any fingerprints from the walls, and dust off the blades of ceiling fans. Remove any odors or fur related to pets. Scrub the countertops clear of any grime or forgotten residue. When complete, your home should look brand new and sparkle at every point.
Not only does a clean space look better to the eye, but it shows buyers that you've maintained your property to the highest level. Neglecting to remove the dust between bathroom tiles or stains from a couch might be a red flag for buyers, as they may worry about other potential issues. It's imperative to thoroughly clean the kitchens and bathrooms, as buyers will pay special attention to these areas.
3. Complete minor repairs
You don't need to be a home contractor to complete small, aesthetic repairs that will make a difference. Most tools and materials needed to patch up your home can be found at common homeware stores. Take the time to patch up any holes in the walls from hanging decor, redo the caulk in your bathroom, and unclog your kitchen and bathroom drain. Also, be sure to replace broken bulbs, fix a sticky drawer, or cover up any scratches on the floor. Doing so shows buyers that you've maintained the home with love and care.
4. Repaint the walls
A fresh coat of paint can be just the ticket to making your home feel brand new. An interior that's painted in an untraditional or dark color may lose buyer interest, as it doesn't cater to their tastes. Replace a too-bright or too-bland color with a light and neutral shade that pairs well with any style of decor. Paint also does an excellent job of covering up any hard-to-remove stains and blemishes. In your DIY home staging endeavor, it might be a good idea to ask a local paint shop what the most popular neutral colors are and then select from those choices. Overall, a fresh coat of paint is a simple, straightforward way to make your home sparkle with new energy and life.
5. Give each room a purpose
By giving each room an intended function, you can show buyers the full potential of the home. This is especially true for awkward areas or rooms that remain undefined. Spaces like the attic or basement are often left unfinished. However, this can deter a buyer from considering a property, as a moldy basement or a poorly ventilated attic may seem more trouble than it's worth. Make these areas an asset by reimagining them into offices, entertainment rooms, or guest bedrooms.

Giving each room a purpose also helps buyers visualize how their furniture may fit into the space. Make sure each room has a focal point that other elements are positioned towards. In a living room, this may be a television or piece of art. Kitchens may face towards a center island or sitting area. A bedroom's focus is the bed, which should exude comfort and privacy.


6. Rethink furniture placement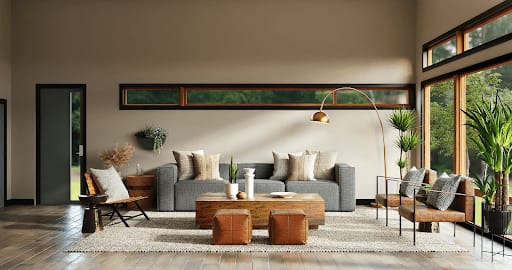 If you've lived in the home for a long time, it's natural for belongings to collect. With larger pieces like furniture, this can be an obstacle to staging. Take a step back and assess the natural walkways of the room. Then, remove pieces that obstruct those walkways. This makes areas feel more balanced and intuitive. Think about how the position of a couch, coffee table, or chair affects the flow of conversation and its practical use.

It can be challenging to strike the right balance between over-furnishing and under-furnishing a room. When following these DIY home staging tips, be sure to tailor them to your home's specific features. Consider the size of the furniture in comparison to the room itself. Oversized pieces will shrink a room, while undersized pieces can come off as sterile or oddly placed.
7. Tidy up your home's exterior
A home doesn't have to feature a spacious front yard to really show off its curb appeal. With that said, the front of the house is the first part of the property a buyer sees, so making a positive impression is paramount. Take the time to power wash the walkways and siding, sweep away dirt and debris, and maintain the landscaping with the utmost care. Focus on creating clean and strong lines with softscaping and hardscaping. Then, create a welcoming front entrance. Clean off the front door, wipe away any grime, and brighten the entry with a pot of flowers. You want to invite buyers inside!
Use these DIY home staging tips like a pro

When staging your home to sell, there are several ways to get the job done yourself. Start by deep cleaning and decluttering all areas of the home. Then, fix up minor repairs and complete upgrades like repainting the walls. Don't forget your home's curb appeal!
Finally, if you want to team up with the pros who know how to get the job done, the
Local Life Design
team is well-versed in creating a unique and compelling space that is sure to impress. This top-notch team can guide you in making sophisticated and savvy design choices, from interior furnishings and light placement to creating your own brand identity. Local Life Design promises excellence at every turn and an eye for making your property look truly spectacular.
From Waco to Austin real estate,
Local Life Realty
is ready to get results. Not only does their in-house design team create masterpieces that are sure to sell, but their expert agents will walk with you through every milestone of your real estate journey. Reach out today.